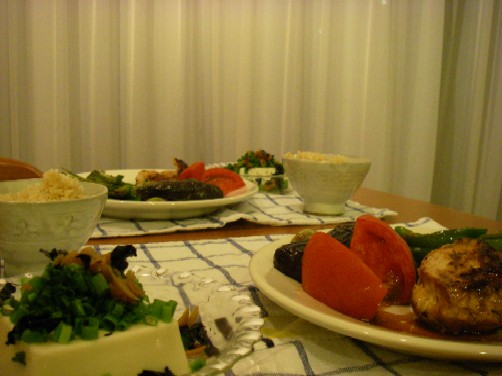 I cleaned and put my house in order during the vacation more than before.
I removed Japanese carpet that we called Tatami and dried it under the sun.
After drying I got back it on the floor in a room and closed the door that we called Fusuma.
When I went to bed, I opened the door. Then it smelled like sun.
I can't see how much it cleaned but it feels really good.
I threw away much staff. And then the living room was cleaned and simple.
I wanna keep the clean room.
By the way this is dinner on a holiday.
These days my sister tries not to go shopping for dinner and make dinner by
food in fridge. Because she wants to save money for hanging out.
I tried to make something by food in fridge, too!
** Today's menu **
+ grilled Chicken
+ Fried and deep cooked egg plant
+ Fried Green papper with small shrimp
+ Cold Tofu with Chinese leek, Japamese plum we call Ume and sea weed we called Nori
+ brown rice