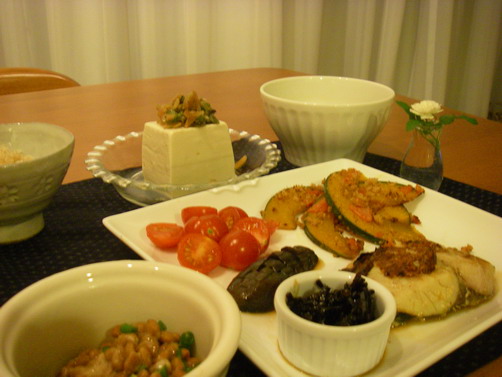 Last night when I got to the station, it was pouring.
I waited for stopping raining at the station. Then I found a street shop of fruits even
though usually I don't care.
He sold peach, grape and pear. The sign said " 7 pears for \300 ".
It's inexpensive. But I wondered if he would steal them somewhere?! and I didn't buy them.
Then some people stopped there and bought them.
Seeing people buying, I thought I'd better buy it and I said " Can I have 7 pears?"
And then the old man said " 7 pears for \700 is this small pear. So you can buy
the big pear. I'll sell you 5 pears for \1000. " to me.
Isn't it strange? The price of pear changed from \300 to \1000 in a moment.
The man said " You can buy it with peach or grape " to me before me saying no.
When I couldn't do anything, an old woman cut in and said " Give me peach and grape."
I thought it's time to leave! I ran away there.
Ummmm, I almost pay \1000 instead of \300.
God! Street shops are kind of danger. It's the same whole entire world.
** Today's menu **
+ saute of Tuna
+ grilled pumpkin
+ fried and deep cooked egg plant
+ Tomato salad
+ Cold Yuzu-Tofu with original miso
+ Natto, Kombu sea weed boiled in soy sauce