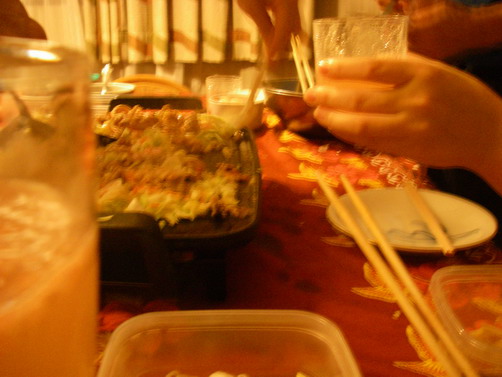 Last Saturday it was bucketing down. So I thought what was goona be but it stopped raining
in the evening. And then it was a cool night after a long time.
Cicadas cried loudly and fried while banging themselves against the wall.
I'm tired on the hot days. But it's funny when fall has come around the corner, I feel lonely.
At the cool night I talked with my family about starting our business while eating Japanese
pan cake called " Okonomiyaki " with my family at my parents' house.
My husband proposed an idea.
I agreed with him and said " Why don't we do that? I'll make the web-site for it."
My sister's family partially agreed with us and we thought we could do it.
At the time my mother said " I don't wanna do that. " So the idea went away.
Ahaha. I gotta think about another plan.
We ate much food and drank alcohol. So I and my husband fell asleep comfortable at the living room. I appreciate it that we don't have to care too much each other at each house.
When I realized it, it was 11:30 at night. It was a silent night.
Suddenly cicada's really big crying broke the silence.
It's buzzing of a cicada. We didn't see it coming.
Trying to look down from the window of the apartment, we found the cicada on the wire screen. We were surprised at it. But we laughed very much.
It was at a lively summer night as cicada's crying and a family's laughing