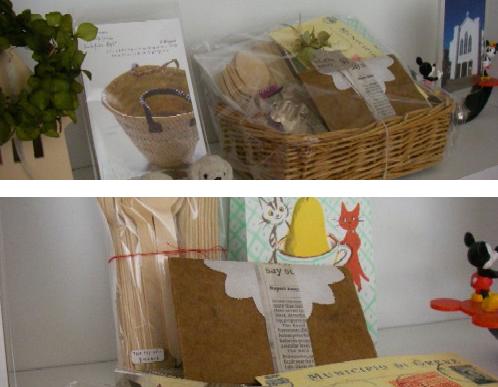 I won various things in a lottely by a shop named "mf collection gallery" in Komagome
of Tokyo. I totally didn't imagine I won the lot. So I was more than willing to
win it and when I knew it in lunch time at work, I grinned.
I got it in the afternoon last Saturday and opened it excited..
There was tea named Green water of Karel Capek, wooden knife, spoon and folk,
waxed paper bags, a cookie mold of rion, brush made in Germany for making sweets,
a post card like antique and linen stash of fog
I feel like getting something for my birthday and Christmas.
I love tea and I wanna learn making sweets. So waxed paper bag is useful for me.
I've been wanting the brush and linen stash for coasters.
It's something that she chose for me.
There were many things that I wanted. It means she took much time to chose it.
I'm really happy such an attractical shop values me.