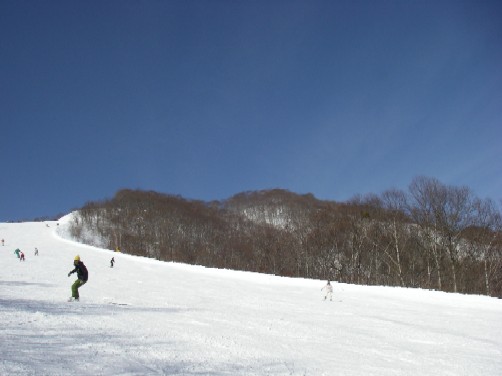 On the following day it was brilliant sunny that was different from the previous day.
We sweated a little and felt like wearing too much.
Even in February it was already spring.
I saw water from melting snow flowing from the top to the down from the lift.
Snow was already heavy but I was able to enjoy snowboarding.
My sister snowboarded really well on the day and she competed against me when we
snowboarded from the top of the mountain.
Snowboarding together is fun like that.
We stopped snowboarding when we wanted to do it one more time.
Getting back to the B&B and we took a bath.
We used the room that wasn't usually used since we were kind of many people.
That's why we were able to put the baggage in the room after checking out.
In addition, we were relaxed after changing clothes.
We made fool of the name " hutte " but this " hutte " was the best because they
allowed us to use the room.
It was not fancy but B&B that is flexible like this is more comfortable than hotels.
You can walk inside the establishment with slippers also PJ.
couldn't be happier when I don't push myself.
Happy sky watch Friday