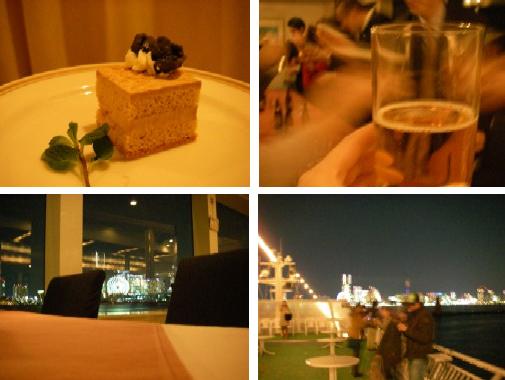 I enjoyed dinner cruise for company trip in Yokohama.
After getting in the room it's the same as drinking at establishments.
But we enjoyed seeing beautiful scenery at night out of the windows an cold comfortable
winds felt good when I took pictures outside.
Actually I'm not in the mood to drink since I had a hangover two weeks ago.
When my husband drank on holidays and said " Why don't you drink? ", I didn't want to
drink at all.
Probably I drank amount of alcohol for few months.
By the way when we took a train to Yokohamam I was kind of shocked when I heard
something from a younger female coleague.
She lost 5 kilos for three months.
She looks slim in the first place. But in addition, she lost 5 kilos!
I felt like slapping my cheek.
Even though I spent time with her, but I didn't change at all.
I gotta make efforts from now on like her!