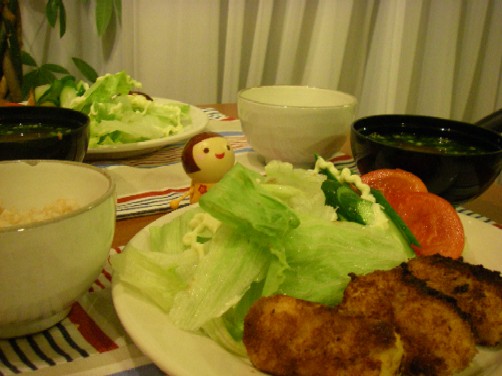 On a day of this week I wanted to eat out something good food due to my husband and me
being tired of work. So I emailed my husband on my way home from work.
I said " Why don't we meet up somewhere and eat out. I'll buy you dinner. "
And then he emailed me and said " If you feel like it, even rice with green tea is OK.
So I wanna eat something at home. "
Speaking of which, there was brown rice and a lot of vegetable in fridge.
So having dinner at home was best I thought.
I changed the packing gum of the pressure cooker. And then I was pleased because
of cooking rice with moisture.
So, what's for dinner?
I had corn and potato in fridge. Yeah, I'll make croquette with white sauce and corn.
After getting home I boiled corn, peeled potato and boiled it and made white sauce.
And then my husband got home, I said " Can you help make dinner? "
When I formed croquette, he shaved bread and made bread crumbs.
Putting oil in the pan, I put croquette in the pan while rolling them in egg and
bread crumbs. My husband took browned croquette out on the plate.
I wanted to eat croquette before cooling down. So I cut vegetables quickly and
made miso-soup. Actually I bought Hijiki, too. But I stooped cooking for dinner
on the night. It was really incredible due to eating it before cooling down.
Especially corn was really sweeeeet! We smiled while eating it. If the corn was
Canned or frozen corn, it would'n've been such good.
It's rare to eat only vegetables not meet and fish at my house.
It's good to eat only vegetables once a while!