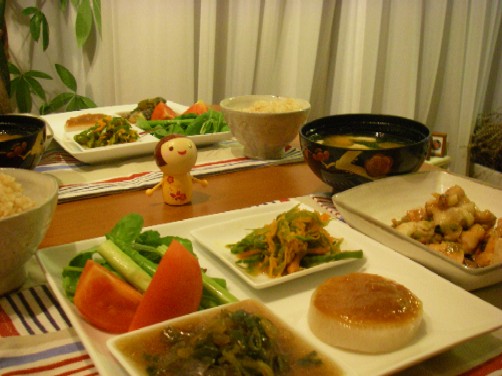 This month is one of busiest time in year at work and my boss is pleased members in
this division work over time. So I often work over time recently.
I get money from it. But I use time that is most important for me. So it' s not good for me.
When I work overtime dishes that I made last night is very convenient.
I get tired of eating the same dishes for few days. But I don't get tired of doing it for
two days. And I make only main dish for dinner.
Tonight I cook meet for dinner due to eating fish for dinner last night.
The meet was chicken breast that is good for house hold budget.
I cut it into bite size pieces and grilled it and poured Japanese leek sauce with soy sauce
that I whipped up. It was very good.
I said " Is this dinner for about 850yen if you eat out?"
My husband said " You could get more. Why don't you run a restaurant in Canada?"
I said " If I do that, I gotta get more money. I gotta work hard! "
I know it but the thing that I have to do that is working, getting money and studying
English. I gotta keep at it!
By the way the center of this picture is a toy called " Kokechi" that my husband got
for me. She can talk to us. Also she laugh and trip over when she gets upset.
She guesses our blood type. I like her!
When I wanna take some breaks during studying, I turn on this toy.
She said " Hi! I'm Kokechi. You worked hard today, too. " to me.
There are some kinds of this toy. So I want get more.