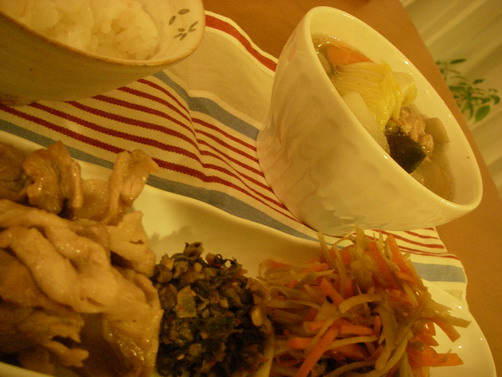 When my husband comes home late, dinner for me is really simple.
I sometimes eat out. But there is hardly delicious meal in the restaurants.
So I think I have dinner at home and whip up something.
Putting that aside, I've been reading a book named " 1Q84" written by Haruki Murakami.
These days I only read books on the train. So I read books slowly.
When I'm really into the book, I read the book at home.
This time I haven't soaked in his world yet but I look forward to time for reading the story.
While reading it, my five senses are simulated and there are some things that I wanted
to do.
For instance I'm wondering what kind of music is sinfonietta by Janacek.
And I wanna listen to it very much. And one of main people makes simple good dishes in it.
Reading it, I wanna cook very much.
I don't need sophisticated dishes.
I'm not a gourmet. So I'm not interested in fancy food and restaurants not much.
If you don't know delicious food, you can't make delicious dishes. So I wanna eat delicious
food. But it doesn't mean they must be fancy and expensive.
I think it seems delish and I wanna eat it when I read something about simple Japanese
dishes in books.
Probably it's familiar for me and those dishes are dishes that I wanna eat the best.
By the way this picture is my dinner last night, it's a Japanese pot-au-feu.
I cooked it for the first time. It was very goood!
I made it with Japanese radish called Daikon, carrot, burdock, Japanese mushroom called
Shitake and chicken and put salt, pepper and Japanese liquor called Sake and soy sauce.
It 's very simple and easy to cook.
I found the recipe in a free paper that I took in the hospital when I caught a cold.
It's very good for dinner in winter.
I wanna make it from now on, too.