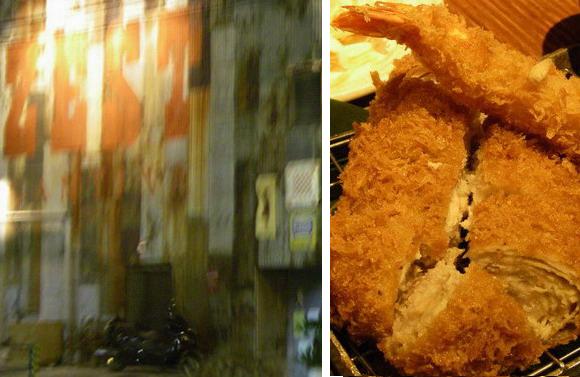 On the second day of three-day-holiday I was in the bed after my husband going to work.
I sometimes got up and watched American dramas. Then the phone rang.
It was from my sister's husband. He said " Are you fine? If you want me to get something,
I'll bring it to you. " to me.
I heard his voice after few weeks and talked to him various things automatically.
I had a terrible cough still. So I said " These days it's been tough days because of terrible coughs and I didin't know anyone at the wedding party of my associate at work yesterday and I was lonely there. " to him while coughing terribly.
He was listening to my stories while nodding and sometimes laughing and he asked me to eat out for dinner.
At night he picked me at my house also picked my husband at his work and he took us to a famous restaurant called " Kimukatsu " in Ebisu of Tokyo.
I watched fried pork called " Tonkatsu " at the restaurant and broth comes out from several-tiered sliced pork on TV. So I wanted to go there once at least.
There were many people who waited in line outside. But we were able to go into the restaurant earlier than we imagined.
Eating a piece of the pork, we took one look at each other.
And eating second piece of it, we tilted our head.
They were good but we didn't see the difference between it and inexpensive familiar pork.
We were full and only thing that we could eat was some sweets.
But there weren't café that still opened at 10 at night. So we got back to my house.
Our night was over after eating ice creams that we got at the grocery store with coffee.
By the way where's the terrible coughing gone?
I couldn't believe it but I almost didn't have a cough.
A friend of mine said " Asthma comes from stress and mentality sometimes. " to me.
Probably it's true.
I couldn't seem to get well but one great night soothed my body and fixed it.
I hear it a lot but it's true the body connects to mentality.
By the way the left side of this picture is a strage that was used for a Japanese drama.