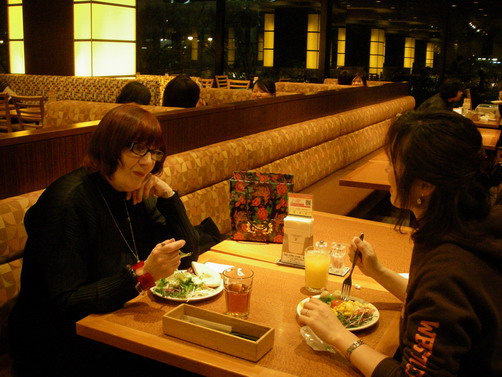 Last night I met
Linda
who is female British in person for the first time.
I met her on the blog. She wrote a comment on my blog about special dishes for new year in the beginning of this year. She said " It's yammy. " or something on it.
And after that I often visit her blog and she often comes to my blog.
We met on the blog last January and we met in person on 9th of March.
So it didn't take much time since we met on the blog.
But I should've met her.
Coz she is leaving Japan on 21th of March.
I had been thinking what I wanted to talk with her. I have many things that I wanted to talk with her but I didn't come up with something special.
Before I met her I was kind of nervous.
It's not that she is a foreigner. I'm kind of nervous when I meet someone for the first time.
But at a glance we hit it off.
She has a really delightful aura from all over the body.
She is very western and it's different from Japanese atmosphere.
Plus she has a power to make people be relaxed.
At the moment when I met her, I thought I'm really happy to meet her.
We met up at a restaurant called Sizzler.
I used to go there often when I worked in Shinjuku.
I used to eat too much vegetable that is my favorite and icecream for dessert.
I ate too much and sometimes I had a stomachache.
Linda is vegetarian. That's why I chose this restaurant.
We went and picked vegetables many times and enjoyed drinking various tea and dessert.
I picked too much lychee. So she laughed her head off a lot!
When she remember me, definitely she remember the much lychee on my plate and terrible bad whether.
Anyway there are a lot of things that I wanna write about Linda but it's a long story.
So I'll write it tomorrow, too!