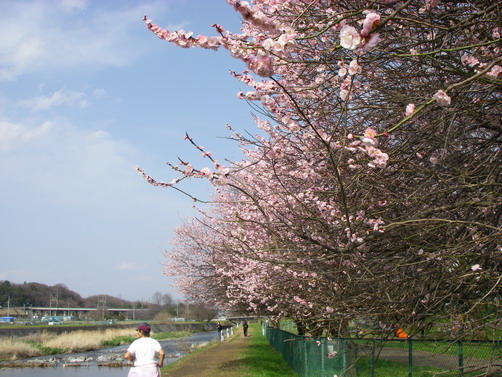 Last Saturday it was a beautiful day.
Waking up in the morning, I was in the bed while thinking is my mother gonna jog on the side
of the river today, too?!.
Around 11 the phone rang. 
I knew who called me.
Of course it was mother.
She said " It's brilliant sunny day. Wanna jog? "
I got dressed quickly and left home.
I should've wore a T-shirt not sportswear because it was kind of hot also it was windy
as spring.
There is a lot of dust in the air when it's windy. That's why it's the worst condition
for me because of wearing contact lenses.
So at first I jogged while tears running because of a lot dust and I didn't enjoy jogging.
My mother changed the course where there isn't much dust and I was able to jog easily.
And she took me to places where you can see beautiful Japanese plum blossoms.
Then my complain, " I should'n've jogged when it's windy." was gone.
We saw a egret like a smugly woman on the pond and it looked cute.
It's much fun to jog with somebody more than to jog by myself.
After around an hour and a half hour suddenly my engine started and much power came out
from the inside of my body.
My mother beat me even though I speeded up.
Oh, mother wins yet.
This is my mother with plum blossoms.