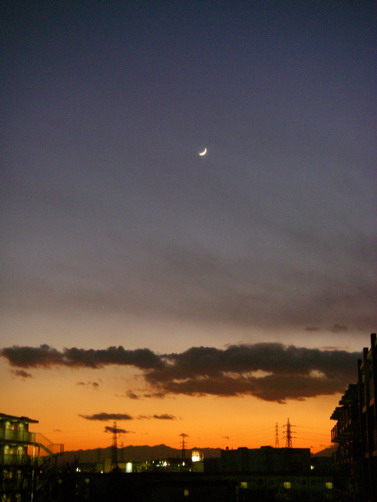 Linda who I met last Tuesday is definitely blood O type.
I heard she gets a lot.
She often laughs, smiles also the way she talks and listens to stories are very good.
She only sees positive sides and she doesn't mind negative sides.
She isn't worried about small things and forgets everything easily.
I said " I'm jealous of you. " to her. Then she said " Why? You don't have any worries, do you?
You have husband, energetic mother and you can enjoy jogging, snowboarding also you like
cooking and baking sweets." to me.
So I said " but… brabrabra…." to her.
She said " Oh, you can't chose it. So you don't need to think about it. Nature decides the best
thing for you. Don't worry. You can't chose it like chose drinking tea or coffee. "
As Linda said that, I was able to understand it and agreed with her. And I laughed myself.
Oh, why have I thought about it? I don't have to do it. I thought and my feelings became
delightful.
And she said " Your English is very cute, girlish and natural. Many Japanese speak English
like text books. " to me.
I was more than delighted of course. Also she said " Your teacher is very good. "
There were many things that we talked about and we really enjoyed spending time
like seeing friends from college.
It was over 10 without knowing even though we met up at 6:30 pm.
Going outside, it was very windy and there were a lot of snow on the road.
The weather became terribly bad.
Every door of every building wasn't open and we couldn't go into the road in the basement.
So we looked for entrance and stood many doors one after another.
Our coats and shoes were soaking wet because of terribly strong winds and snowy rain.
But we cracked.
Even though we met in person for the first time but I wanted to be with her much more.
When we said good-bye at the station, Linda hugged me tight.
Linda is gift from God and I thought she was an angel. I really thought so.
She was attractive and I wanna be like her and learn something from her.
Thanks to God to meet Linda.
Needless to say, after getting home I said " Linda is really attractive, I was really lucky to meet
her. " to my husband.
Of course I texted my teacher and said " I always think so. Thank you. " to him.
Because he teaches us real English not text books. That's why I can communicate
people from other countries.
I wanna value friends who I can meet by coincidence and get along with them.