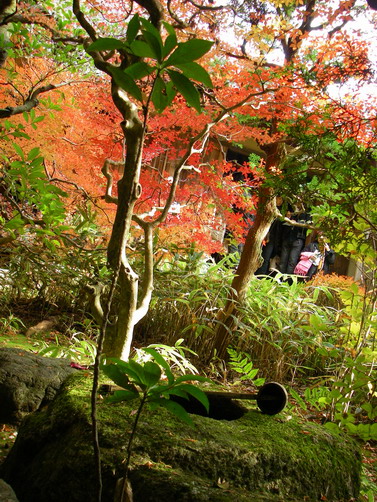 We sat on the side of the garden while drinking a cup of green tea after taking a walk
in Daitokuji. Drinking tea while seeing changing leaves is such a fantastic thing.
The thing Japanese drink green tea is really luxurious and elegant.
The beautiful garden is made for people who drink tea in the small room called" Chashitsu "
All people use a tea cup that ceramic artists made with their power.
When Japanese make tea, people value the way they make tea and do it slowly.
It means they take their time to do it.
Putting that aside, I'm not sure the price of the green tea.
Whenever I pay when I'm with my parents-in-law, they say " You don't have to pay."
My father-in-law still works. Probably that's why they say it.
After starting to work I started to try to pay for us also my parents.
It's my personal policy and virtue.
I don't know why. Probably I had my parents worried when I was young.
So I have to return a favor. It might be the reason.
But it's not bad I have parents who pay ours.
Because we can't seem to depend on other kindness after grwoing up.
What's great about getting married is some hard thing might happen,
but also many happy things happen because you have another parents.
The more years pass after getting married, the more you find out something good about
marry also getting how happy you are.
By the way this is a bowl called " Tsukubai" in the garden of Daitoku temple.
Go ahead to wash your hands and go to the room for Green tea!