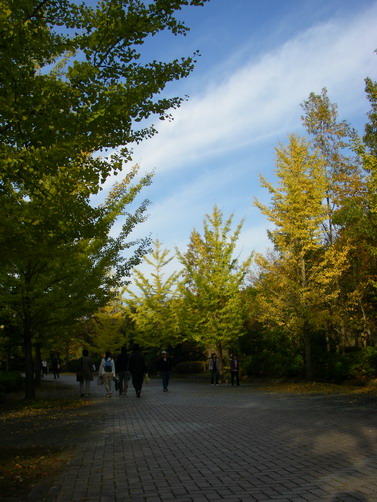 Last Sunday I went to Chichibu, countryside near Tokyo, with my sister's family and my parents. Eating good Soba and Tempra is one of fun things.
The Soba restaurant is the restaurant where my sister's mother-in-law often goes to.
Recently it's one of familiar restaurants for us without knowing.
When one person joined our family, our world became big a little by a bit.
And it ended up becoming our world. I like it like that very much.
After being satisfied with Soba and Tempra we went to the familiar large park.
We enjoyed playing badminton, Frisbee and catch while seeing the beautiful changing leaves.
After playing it I lied on the plastic seat and took some pictures of everyone playing it.
There were beautiful changing leaves and the beautiful sky above our heads. How beautiful and clear the sky in autumn is!
After a while my sister took bubble soap out from her bag.
I didn't imagine my husband and my sister's husband absorbed doing it.
The evening comes fast in autumn. It was getting dark and cold.
We stopped by an Italian restaurant on our way home. And we ate Quattro Formaggio and vongole. We cleaned it and went to parents' house being relaxed.
When we were relaxed, I got upset at a small thing and I got angry at my sister.
My sister got pissed off at me. Everyone tried to calm our anger. But we didn't feel better. When it was silent, I heard my husband weird voice.
He played like T-back in an American drama " Prison Break". My sister7s husband started doing it, too.
My sister and I cracked up and our anger flied away.
Thanks to guys of my family.
Happy Sky Watch Friday