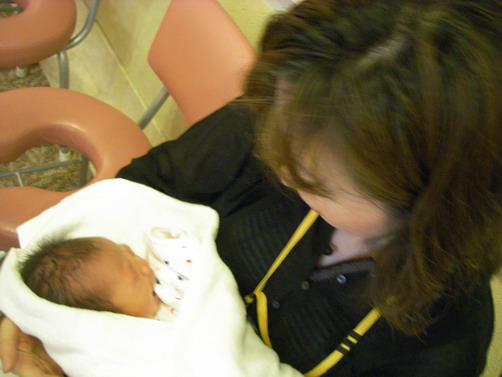 Yesterday there was a phone call in the morning when I didn't wake up.
It was from my sister.
" You know what, I had a baby last night! "
She said it first.
I didn't see it coming! Because about 12 hours before she was the same as usual and
She supposed to have a baby a couple of week later.
Listening to her story, I was excited very much.
I wanted to hold her baby soon but I thought I wanted my grandmother to hold her baby.
My husband who was still in bed got up listening to her phone call.
Then he went to work and I went to the hospital.
I talked with my sister's family and mother for a while in the room of the hospital.
And then we went to see the baby to the nursery.
The room is the glassed room and you can see the newborn babies.
My sister's baby looked small more than I imagined.
We weren't tired of seeing the baby and said " Is he cute, or what? "
And we said " He already has nails. Can't believe he was in her about 12 hours before! "
to each other.
Two friends who already have niece or nephew said " Children of other people are cute.
But children of my family are really cute. " to me and I thought it was true!
At the time a nurse gestured and asked my sister to want the baby.
We didn't expect it but we were able to hold the baby!
There are not many opportunities to be able to hold the newborn baby especially
who was born on the day.
He was really really small. I was carefully to hold him and he was very sweet
And I didn't wanna leave him. So I said " I'm your mom. " to him.
He looks like my sister's husband very much and he told us that the baby's good points
came from him.
My sister supposes to leave the hospital in a couple of day and go to parents' house.
So I can hold the baby anytime.
He didn't cry much and he was a very good baby.
My friend from the college loves her niece and the niece's smile supports her.
I know how she feels and I'm feeling very happy.