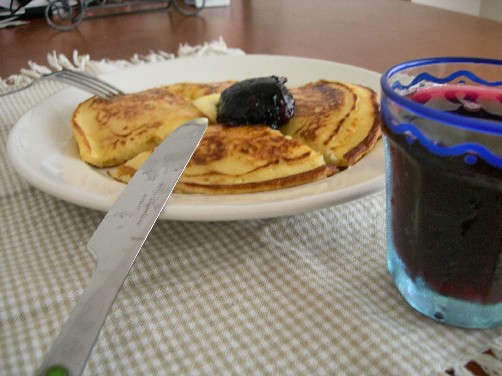 I'm imagining I bite crispy toast and tomato soup.
I didn't come up with other food that I wanna eat during diet.
I seem to want to eat toast very much.
What's your favorite food? If somebody asked me, I' d say " It's toast. " ?!
Probably now I eat meat also various vegetables and I eat them enough.
That's why I didn't come up with other things.
When I lose 2 kilosあと I'll eat toast.
Well, I just done cooking tomato soup with various vegetables.
I put celery, onion, carrots, Nasu, red pepper and chicken in it.
This is for my lunch or dinner when I wanna eat it.
By the way this picture is a pan cake that I baked in 2006.
I downloaded it on my blog in 2006.
Oh, I really wanna eat a pan cake!