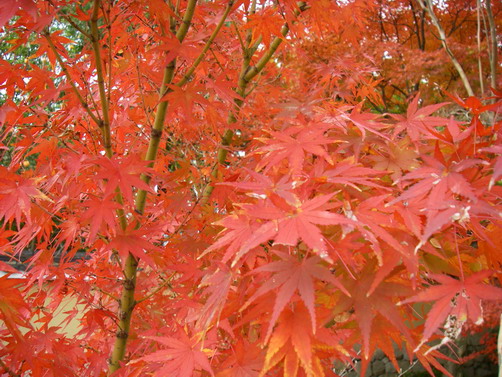 In the next morning of staying at my husband's family-house my mother-in-law waked us
up. Breakfast was already ready and there was some pieces of bread and something on the
table. Chanson was playing in the living room. My mother-in-law has learned it for a long
time.
She wore full make-up last night but she didn't wear make-up when we had breakfast.
Becoming family is something like it, I thought.
My father-in-law drove and went to temples in Kyoto.
We saw beautiful changing leaves covered mountains on the way there.
We stopped by a gorge and took some break while seeing beautiful leaves and listening to
the sound of water.
Sign of " For Sale "was on the almost broken wooden house.
It was on the side of the river and there was a beautiful Momiji- tree next to it.
If I lived there, it would be attractive.
But if the river was swollen, the house would get washed away easily.
My father-in-law looked like enjoying smoking in the clean air.
There was a stand of vegetables around there and Chinese cabbage is sold for 100-yen.
If I lived near the stand, I would've gotten it.
My mother-in-law talked about something and the sound was echoed on the river.
I repeated her Kansai accent in mind. It means we have different Japanese pronunciation
in each area of Japan. So she pronounces Japanese different from me.
I wanna learn her accent. That's why I repeated her words in mind.