Comfortable tiredness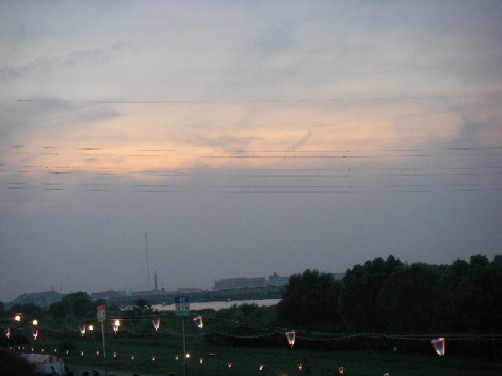 Last Thursday it was the last day for my colleague at work.
I helped her task while doing my task. That's why I got home at around 9:40 at night.
I got hungry. So I ate Sashimi that I got at the grocery store near my house, miso-soupand Japanese pickles. It was very simple dinner.
When I did the dishes after finishing eating, my husband emailed me and said" Can I have dinner at home? "Lunch box that we call " Obento " at stores is not good and doesn't have nutrition.So I made cold noodle with much vegetable and fried pork for him.
Time flied when I did that and it was over midnight.And then I thought I'd go to bed after taking a shower. But I decided to study English for a while.
After all I went to bed at around 1 in the morning.I was tired but I felt good.
And I had a comfortable sleep.Making some efforts and I can get a confidence and start to like myself.After doing a lot of things in a day I get tired but my mind gets well.
By the way this picture is the sunset that I saw before the big exhibition of fireworks.
When the sunset began, lanterns turned on.