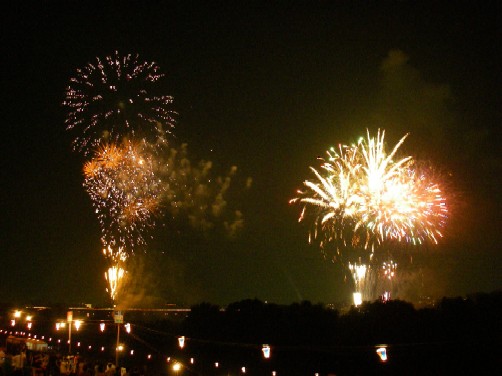 Competition for saving a spot for seeing fireworks has increased recently.
So I can't be relieved even though I saved the spot for it on the previous day.
Last year we saved some spots for it but other people took it.
So I decided to go there by myself in the afternoon before my family going there.
I used to make various dishes for enjoying eating them while seeing the fireworks before.
But this time I didn't care about food.
I made only Chinese fried noodle and boiled corns and I left home.
Nobody was at the bus stop because it was still in the afternoon.
I was relaxed at the not crowded bus and got there.
It was blazing hot at the fireworks site at around two in the afternoon.
I must've been a roast beef if I had been in the sun all afternoon.
At the riverside where there weren't many people I put up a parasol and laid while reading a book. If I can avoid the sun, the wind felt really nice.
It was comfortable more than I imagined and I thought I'm gonna go there early next year,too. Three hours flied.
My family came to the place in the early evening because I was alone there.
I ate much food that my sister and my mother made and drank a lot.
When the fireworks exhibition starts I break out in goose bumps due to touching my heart even though I have experienced it many times.
After the countdown many fireworks were set off from various points with really big sounds.
It was really spectacular and beautiful. The fireworks exhibition is one of pleasant events.
When I saw such a beautiful firework, I nodded off without knowing. So my husband waked me up sometimes.
Time flied during the fireworks exhibition.
I feel kind of sad. Because it feels like the end of summer.