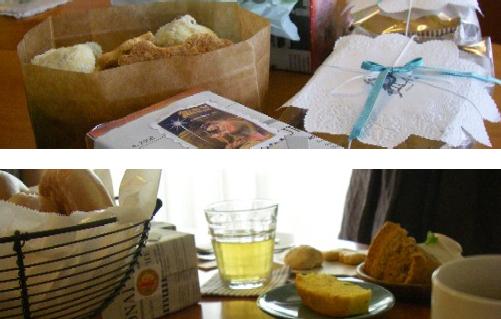 On the second day of the holidays I visited my friend called " Kuri-Kanoko"-san.
I baked some cookies to bring them to her.
I made some cookies without butter while seeing a recipe book.
And I made another cookies that my friend " Yon-yon"-san taught me.
It's called Rosian cookie.
The cookies that she made was round but the cookies that I made was not round after
baking. It means the shape changed kind of flat after baking.
This time I visited Kanoko-san with a friend called Mizutama-san and Kanoko-san's friend from junior high.
I hit it off with Kanoko-san's friend since we first met.
She looks prety and I thought she had a date with men a lot but she doesn't do it like that.
We met up at two and we were at her house till 8. We were very relaxed for a long time there.
Misutama-san baked pumpukin cake, Kanoko-san baked tube cake and Kanoko-san's friend
brought krispykreme doughnut.
It was like a buffet of sweets.
We shot the breeze and talked about various things in the bright living room with a fine view while listening comforting music that Kanoko-san chose.
We met each other on the blog in the first place.
Now they are my valuable friends.
We met each other by coincidense on the blog, we are neighbors by coincidense also we have in common.
Meeting people is amazing.
And thank God to let me meet them!