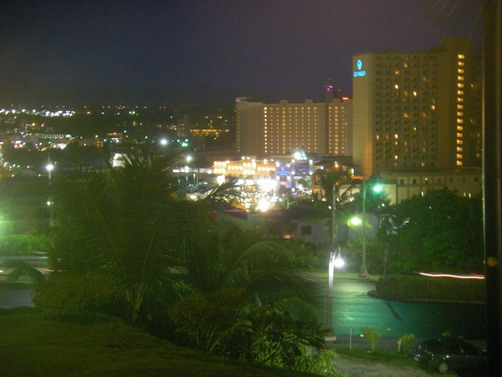 On the second day of Guam time flied when we were in the sea.
After having dinner at TGIFriday we walked around the town and went to a ride called
sling shot
.
The ride is the opposite of bungy jump.
My sister who likes scary rides asked us to ride the ride.
My sister's husband said " I can't do it definitely."
Everybody said " Aya should ride the ride! " to me. My sister who really wanted to ride it held me to the entrance of the ride. Everybody said " I'll pay the fee. " or " I'll get something after you riding. " to me. I said " Wait wait!! I'm bad at riding the scary ride more than you guys. " I thought I tried to ride the ride for my sister many times.
Because she really really wanted to ride it.
It attains heights of 230 feet and reaching speeds of up to 100 mph over and over.
It's more scary than Japanese roller coaster very much.
I ended up not riding it. I couldn't have courage to ride it.
After leaving the ride we went to the aquarium called " Under Water World ".
We were able to see big Mantas and turtles swimming under the aquarium tunnel.
Sometimes some manta took a break on the aquarium of our head. And their faces made us
laugh.
We ended up going back to the hotel around 12 in the morining.
On the following day we were gonna go back to Japan.
Time flied on the last day.