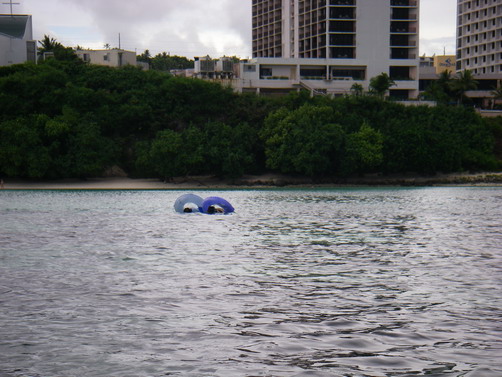 After snorkeling we went shopping to the Premium outlet mall.
The outlet looked like uncrowded shopping mall.
There was a big cheep clothing shop, NIKE and a toy shop.
We left there and went to a grocery store called " Kmart" where we saw on the way to
the outlet mall.
Grocery stores in other countries are very interesting!
I looked for various food and various stuff in the store.
I wanted many things but if I got everything that I wanted, it would've been heavy.
So I didn't buy many things.
We got bread for breakfast, honey made in US, dental floss and some alcohol.
Japanese ASAHI beer called " Super Dry " was sold for about $1 each.
They imported them but its in Japan is more expensive than it.
I found out Japanese alcohol tax is way too expensive!
On the night we ate pizza called Quattro Formaggio and pasta at an Italian restaurant.
After eating we drank beer and smirnoff at the hotel.
By the way this picture is some brother who swan with float.
They looked like getting on together.