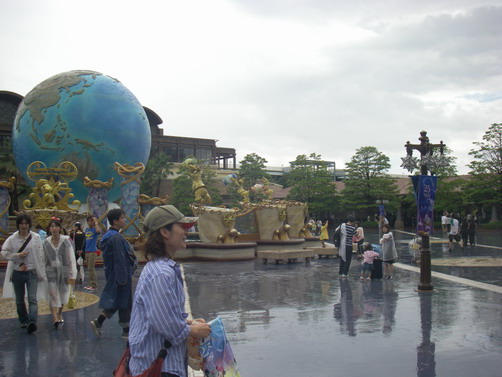 I went to Disney Sea with my husband and my sister and her husband last Saturday.
It's been three years since I went there with my sister and it was the first time to go there with them.
I already got some snacks to bring there few days ago because of looking forward to going there with them.
On the previous evening I couldn't seem to fall asleep and I laughed myself because of being excited like a child.
It had been raining in Tokyo last week. Last Saturday the weather forecast said it's gonna rain. Getting up early, I saw outside. It was pouring.But when we got to the Disney Sea, it cleared up.
My sister's husband who calls the sun clapped his arm while saying " see? ".Getting into the entrance we ran to get " fast pass " of a ride called " Tower of Terror ".
This is a ride like free fall. It means the ride falls down from the top to the bottom.My sister who likes thrilling rides led us there. Indeed we three were scared very much.
We went to a ride of " Indiana Jones ". But we had to wait for it for 50 minutes even though it was still early morning.
We waited in line while sweating like a pig under the strong sun.
It took long time to ride the ride, but it took only short time till the end of the ride.My husband said " I'm already satisfied. " when we finished riding the ride called " Aquatopia ".We got on a ship called " Transit Steamer Line " and went to a ride called " The Center Of The Earth " and got a " fast pass ". When we took a break with beer at the stand on the basement, suddenly it started pouring.
It was around noon. So we decided to go back to the car and have lunch.It was silent at the parking lot. So we were relaxed because it was kind of noisy at the land.
My sister served some rice balls, sandwiches and fried chicken from the coolerbox.We opened a table of the backseat. It was like the meal service on the plane.After finishing eating she took iced coffee and added some milk in a cup.She is really caring! I thought she is a character in a Japanese book for children.The character takes various food from her bag and cook something for children.So, time passed when we were relaxed and being dozing off at a car while feeling cool winds in the morning.