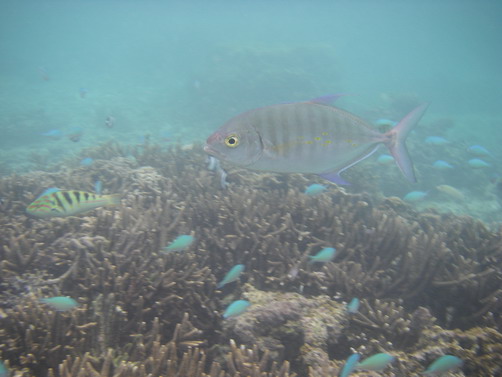 We got up at 8 in the morning. It was a brilliant sunny day.
We got something light for breakfast and went to the beach.
We ate a not good hotdog quickly and started snorkeling.
The first person who starts swimming in the sea is always my mother.
She said " I'm over 60. So I try not to have too much confidence in my physical strength."
But I couldn't believe it when I saw her swimming. She swam fast the same as usual.
We always swim to our mother who swims ahead.
Tumon beach has a lot of hotels but also the beautiful beach!
Heading out of sea, there are many corals and a lot of fish all over the area.
You can see even clownfish.
Being in the sea, I forget time and I'm not bored at swimming and sometimes I wanna
float forever.
If somebody said " If you couldn't do only one thing in your life, which would you chose
snowboarding or snorkeling? " to me, I'd definitely chose snorkeling.
This picture is a picture that I took when I snorkeled.