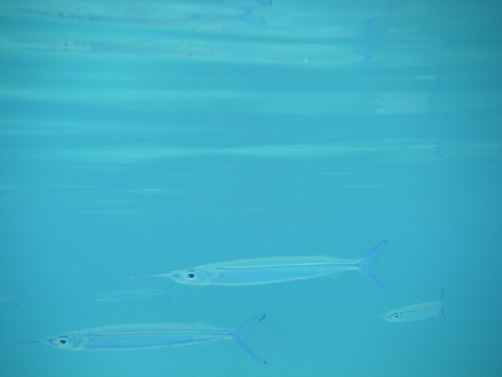 When I went to Guam last time I got sunburn. That's why I couldn't jog.I thought I wanted to jog even this time. But it was toooooo baaaaad it was raining.
We were gonna get back to Japan on the following day. So on the day it was the best day because of having much time.
Inside of the sea seemed not to be clear because if rainning. We didn't know we enjoyed snorkeling….
After breakfast we prepared for something to go out the sun started shining !My sister's husband beat his chest. Actually he always brings the sunney day.I started singing a song of a movie called
"Ponyo On A Cliff"
Everybody was laughing and said " Try to sing the song again!" to me.
I sang the song. Everybody was laughing very much again.
The song that I sang was a little bit different from the real song.On the day we went to Agana Beach by an optional tour. But there were a lot of seaweed not coral. So we couldn't see much fish there.
It was still raining. We got back to the hotel and went to Tumon beach again.
On the day it rained the whole day. So the temperature was low and swimming in the sea
was warmer than being on the beach.
But swimming for a long time, the water got rid of our temperature without knowing.When we realized my lips turned black.
Everybody told me to go to beach already. So I didn't want to do it but I swam to the beach.
Seeing fish is very fun also swimming in the sea is fun!
We were able to swim faster from the beach to the shore with the wave. But we couldn't go ahead faster from the shore to to the beach.
When it started pouring strongly, suddenly the water got cloudy.
I was a little bit scared.
My mother who waited for us on the beach was worried about us.
If lighting had appeared,it would've been dangerous.
Spending time in the sea is very fun but I gotta be careful.
By the way this fish is clear fish who swam around us. It looked like saury.