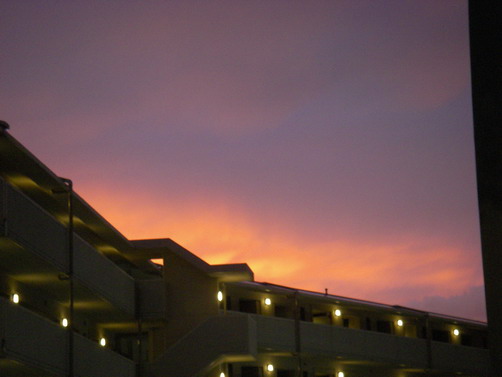 On the other day I felt down suddenly.
Feeling down comes to me all of sudden.
By the way a temp stuff at work that I get along with recently smokes.
When we go to lunch together, she lights a cigarette before eating.
And she enjoys blowing white smoke.
Sarah Jessica Parker who is a heroin in " Sex And The City " enjoys smoking in the drama.
Seeing them, I sometimes really want to smoke when I feel down like the day, get angry at
somebody, feel bitter and want to cry because of being hard time.
My throat gets hot and dry.
If I decided to smoke, I could get it easily.
It must taste really gooood after about 5 years.
But I know the hardness of quitting smoking. So I don't smoke again.
A little bit feeling down went away in the next bright morning.
I wanna treat the bad day well from now on, too!
By the way I saw the sunset in the mid summer. It was like being in a dream.