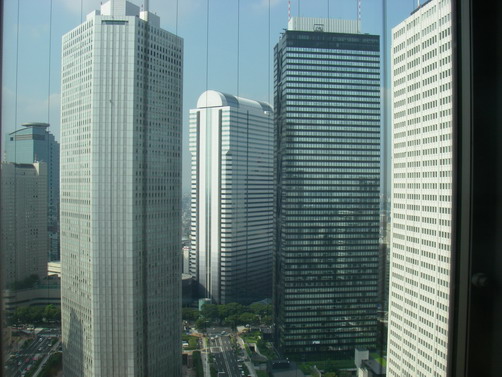 Last Friday I took a half day off for some reason.
I met up with my sister in Shinjuku of Tokyo and we had lunch at a restaurant where I used to go to when I worked in Shinjuku..
After enjoying eating hotmápó dòufu we walked to NS building in the hot weather.
When I used to work in Shinjuku, I often went there because there were few customers there.
I used to like the elevator of this building. Because you can see spectacular view.
So I asked her to get on the elevator.
My sister said " I know a higher building in Shiodome of Tokyo. And you can enjoy going up at high speed " But we enjoyed going up more than imagined while imagining riding the ride called" free fall "
It would be OK to ride it once, but I asked he to ride one more time. So she grinned at me
After walking for a long time we stooped by Starbucks. But we couldn't keep seats
Because I stood reading books at a book shop next to Starbucks.
So we had to walk more for me. It was not easy to hang out with me.
We finally got seats and drank a cup of coffee while being relaxed.
And then we went to see various shops for clothes and something and we went to a shop for ingredient of sweets and I got 1 kg of almond powder, raisin and walnuts walnut.
My sister got me the tool for squeezing the whipped cream for macaroon and Mont Blanc.
She said " I don't know why you made me walk for a long time. I'm really tired!" to me while smiling.
Yeah, that's right! On the day we walked for two or three hours without knowing.
We left Shinjuku of Tokyo and got to my house with some alcohol.
It was really hot in the afternoon. So we took a shower as soon as we got to my house.
And we were relaxed under the air conditioning with alcohol. " It felt really goooood "
Dear my sister, thank you for hanging out with me.
And the lightheartedness addicted for me.