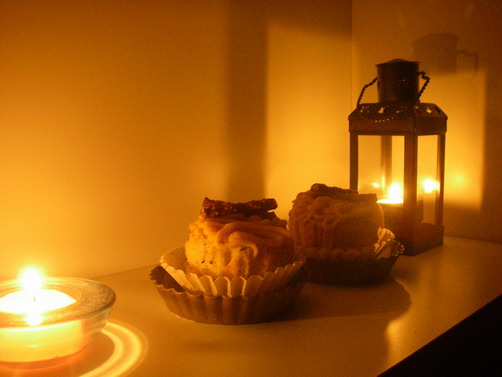 My father-in-law sent us a pumpkin that he grew at his garden.
So I made various dishes from it. Per say, deep cooked pumpkin, grilled pumpkin and pumpkin with miso-soup.
The pumpkin was made in Japan also he grew it without Agricultural chemicals.
So I was pleased to eat such a nice pumpkin.
Especially we were able to taste the natural sweet of pumpkin. It was very good.
I grilled sliced pumpkin with bread crumbs that I mixed with Parmigiano cheese and chopped small tomato.
But there was still some pumpkin. So I decided to make cake called Mont Blanc from it.
I boiled pumpkin and used the blender for mashing.
Then I strained it.
After straining it I was pleased to see the smooth pumpkin.
It was really smooth. I enjoyed the texture also mixing it with sugar and fresh cream.
By the way I realized I was not sure how to put the cream on the cake after baking some cup cake.
I don't have tools for squeezing cream for Mont Blanc. So I used another tool instead of it.
After finishing making it I thought I should've put pumpkin cream
around fresh cream on the top of the cake. I'll do it next time.
Anyway, I' m satisfied used all the pumpkin that my father-in-law grew and enjoyed eating as various dishes.
The fall that is the best season for eating is coming soon.
I gotta be careful not to gain weight.