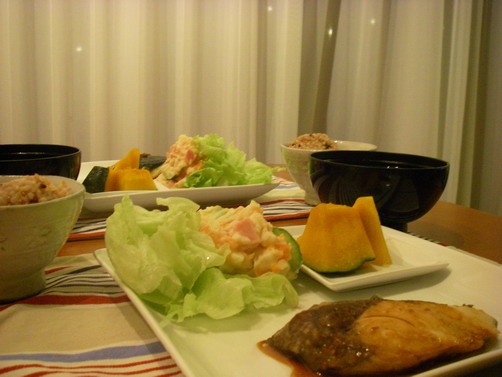 For me K is for " Kitchen "
In the kitchen I cook, baking sweets and making soap:)
Kitchen is a place for making something good for me.
When I was single, I didn't get how kitchens were important places for wives.
After getting married I got it!
I sometimes think of something in the kitchen while doing dishes.
Yeah, kitchen is my best place at my house:)
By the way I've been busy at work also after work.
Usually I don't have much plans though.
I've been wanting a schedule note book to write down my plans.
I worked overtime most of the time in September.
I hope I get home earlier in October.
Suddenly it's getting cold and I'm hearing people coughing at work.
I gotta be careful not catching cold and work hard.
It's already dark when it's finishing time at work.
I'll take out clothes for winter already.
By the way this is dinner that was ready in 30 minutes after working overtime.
It was very simple but I was satisfied. Hot miso soup got my tired heart bright.