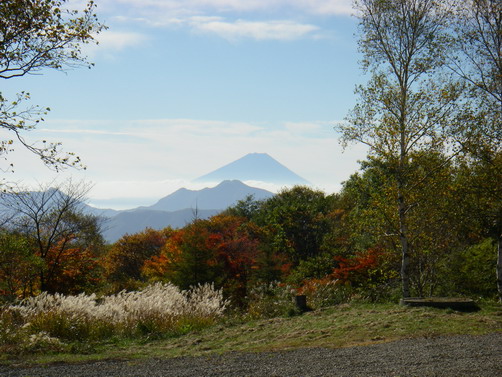 On the next morning we had breakfast for 600yen at the establishment.
It was not so good but we were satisfied it.
There were many beautiful mountains under the fog in the brilliant morning.
The most beautiful mountain is of course Mt.Fuji.
When we took many picture of Mt.Fuji and saw news at the lobby, my mother cut some
vegetables, made curry and cooked rice. On the day we were gonna eat it on the green
ground.
We didn't have many plans but we left the establishment at 10.
It was a brilliant sunny day. Pulling over on the pathway, we took some pictures there.
How do you say, every mountain was beautiful. How beautiful this place is!
We took a walk on the trail, drank milk, ate ice cream and got some jam.
And then we went to the ground of grass and ate the curry and rice that my mother
made. She dished up curry and rice that was still warm with Japanese pickles.
The curry was much more incredible than its that I usually eat. We ate it one after another.
We ended up not eating out during this trip.
We enjoyed seeing beautiful scnery also eating something and we got some information
that we want to go to next time.
Out trip was over this time.
Speaking of which, it took only 7500yen per person including the room charge, gasolin,
fee of express way and all meal.
Isn't it great we stayed one night there and we enjoyed having every meal.
By the way this picture is a picture that my husband took.