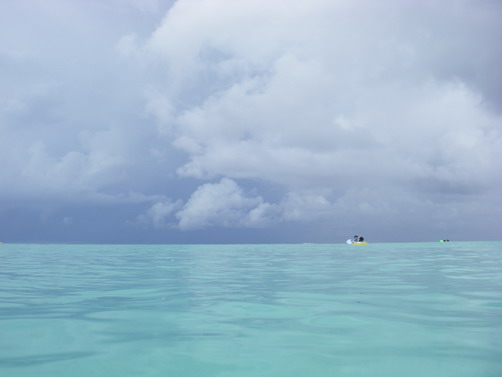 We had to chek out at noon on the last day in Guam.
So we had only few hours to be in the sea.
My husband took his time while blowing up a beach ball on the beach.
I couldn't wait for him and started swimming slowly to my mother in the shore.
But I was care about him. So I waited for him on my way to my mother.
He caught up me while swimming slowly with a beach ball.
I said " I'll swim ahead not wait for you." to him. He said " Yeah, OK! " So I started doing the crawl.
And I saw next to me while swmming. He swam ahead with fins even though he swam very slowly.
I moved my hands and my legs quickly. But he swam faster than me even though he swam only by his legs but also with fins and a ball.
Ummm, I laughed automatically and a little water flew into my nose!
We enjoyed snorkeling until just before leaving the hotel. But actually we wanted to snokel more. We stayed in Guam only for two days and a half day. But it was very fun.
After getting back to Japan I wrote down about this trip and then this story was longer than I imagined.
Two weeks passed since getting back to Japan. Recently it's getting cold in Tokyo.
So when I wear a skirt not wearing stockings, my legs get cold.
The season that I enjoy wearing anklets is over and I put anklets in the box.
So, what am I gonna take out instead of it?