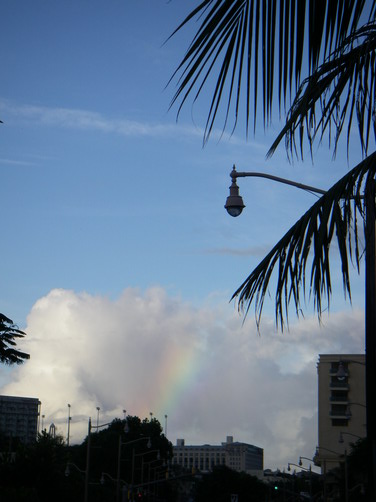 On the last day in Guam I got up early with my sister's husband and went jogging.
There were only few people and cars in the town. But there were hardly cars out of the town.
Only People who wiped the window of shops or people who jogged were there.
When we jogged the temperature was still low.
I followed my sister's husband while taking pictures.
At the time we found the rainbow that was disappearing in the front of us!
It was very lucky to see the rainbow while jogging!
" The early bird catches the worm." is true!
Jogging for 45 minutes, we got to a kind of park and got back.
The sunshine started shinning strongly!
I was a little bit scared because I got too much sunburn when I came to Guam three years
ago. I didn't want to experience that again.
I jogged faster in the sun and jogged slower in the shade
So we jogged fast and strongly. So my muscle got sore even after getting to Japan.
But It was very fun to jog in the early morning in the uncrowded town of Guam
If we hadn't jogged, we would'n've seen various scenery.
When and where I'm gonna jog in the early morning?