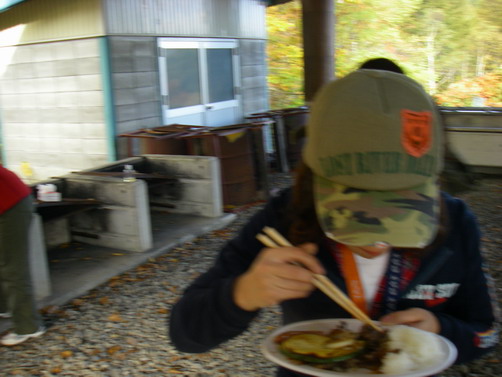 Well, getting to the familiar establishment, we prepared for BBQ. The air is much better than its in Tokyo. But also we ate beef in the air, it would be incredible!
We borrowed a cutting board and a knife.
My mother can build fire and use the Dixie best.
I and my sister picked up some branch and used wood for lighting charcoal.
We brought them to our mother like competing.
Then we were able to light charcoal and put Dixie on it.
My sister said " Aren't you beginning timing? " to our mother.
She said " I don't need it. It's OK just seeing it. " to my sister with compelling voice.
We picked up branch and wood for grilled beef while seeing the head of Dixie moving with
good sounds.
By the way how sweet cooked rice by Dixie is!
I ate it with grilled beef and vegetables one after another.
My husband took many pictures without me knowing when I ate them.
I started enjoying spending fall to eat good food!