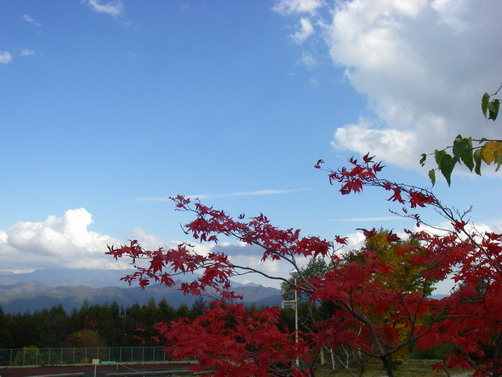 Last weekend I went on a overnight trip to Yatsugatake with my family.
I had a small trouble before going traveling. But my family solved it.
I appreciated it and I'm happy to have such a nice family.
I and my sister used to go to Yatsugatake for a camp when we were in elementary school and junior high school. So it's familiar for us.
This time we stayed at the establishment where we used to stay when we were in elementary school and junior high.
Of course we have stayed since then. We were missed it and excited before going there.
And we said " We gotta build camp fire and do folk dance! " each other.
Speaking of which, There was the story when I heard it in junior high.
It's haunted by ghosts in a room of the establishment, two people saw the dog in the establishment at the same time in the different place.
Oh, I remember test our courage in the grove and we fought with boys by pillows.
We were thrilled to hide from teachers who came to each room and we enjoyed hiding in the same Futon with others.
Remembering it, our voice must've reached to our teachers. I found out teachers allowed us.
This is scenery from the establishment.
It's the beautiful sky and red Momiji.
It's really beautiful and we liked it very much.