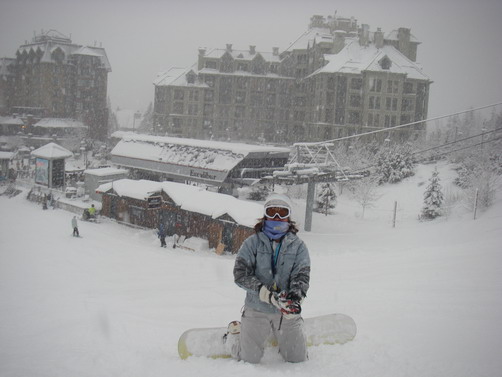 On the last day in Whistler it was snowing in the whole day.
It had been snowing since the previous day. So the snow condition was incredible.
We couldn't seem to see anything well. But it was so nice to snowboarding on it.
By the way it's hassle going to the bathroom when I snowboard.
When I snowboard in JapanI don't go to the bathroon soon even if I wanna go to the bathroom.
But if you hold it in in the ski resort of Whistler, it would be hard.
Because you can't seem to get to the end of the lift and it takes a long time from the top of mountain to the bathroom. And sometimes you might get lost.
It was the best day to snowboard. So I often held it in and dashed to the bathroom.
So we really enjoyed snowboarding more than the previous days.
But on the day we had to leave Whistler and go to Vancouver.
We booked the bus at 3. So we quit snowboarding even though we wanted to snowboard more.
This picture is me when I had to leave the Whistler resort.
Anyway if it was good when it ended, it would be great.
When we took our baggage at the hotel, an employee talked to us.
And he told us they found their error of our fees that we paid already on the first day.
On the previous day we lost small money because I got wrong to listen to English at Body Shop. After paying I found out it and asked her to get back money to me.
But she said " I said so exactly. " strongly to me. And she ended up not getting back to us.
We thought when the deal was over, we couldn't get back and we had to leave there even though we couldn't be convinced.
But this time the hotel had a mistake and they told us to go over their calculation.
We couldn't be convinced at all and said " The receipt said we paid the fee from 25th to 29th already. " But she said " It's OK if you don't get it. Because we know your card number.
So we can use your card and get the fee. " We felt uncomfortable to hear the word.
And actually when we remembered it later, we got pissed off.
But we didn't have time anymore on the day.
The only thing that we were able to is giving up…..