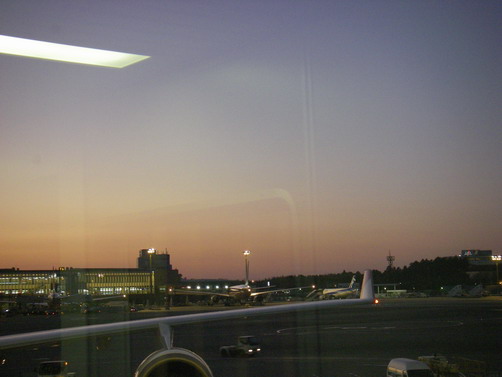 On New year's I got back to Tokyo around at 5:30 in the evening and took a bus to our
house once. And then we took a hot shower and went to my parents' house with something
that we got for them in Canada.
When we got to parents' house, it was already at 10.
My mother and my grand mother waited for us also my sister and her husband waited for us
while drinking.
They ate incredible " Sukiyaki" already and they were relaxed.
My mother served us Sukiyaki and she put vegetables and beef one after another.
We just ate them. And then we started to drink relaxed.
The annual year-end song festival was on TV.
Unfortunately Enya who is my favorite musician sang already.
My parents and my grandmother sat around the Kotatsu that is Japanese warm table.
And my husband, I and my sister's family sat on the dining table while drinking.
Spending comfortable time with my family, I couldn't believe we were in Canada
14 hours ago.
After that I started nodding off.
It was no wonder the clock in my body showed at 3:30 in the morning.
But I waked up at the right time when we started to play card games.
We ended up playing card games till 2:30 in the morning.
By the way this picture is the sunset in Tokyo international airport.