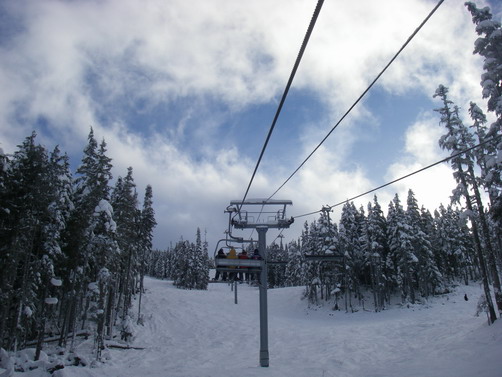 On the third day in Whistler sometimes snowing and sometimes the sun appeared.
On the previous day we started in the late morning. So we got up early and go to the gondola at 830 when lift started.
In spite of going there earlier there were many people in the front of the gondola like people who were waited in line at Disney land.
There were various countries, people there and I couldn't tell the difference between
Japanese from other Asian people.
There was a woman who said sorry to me when she bumped me.
I noticed she was Japanese because of her English. But she didn't notice we were Japanese. So she looked surprised when my husband talked to me Japanese.
On the day it became more icy.
We heard " the snow was 2m less than last year " from a person who seemed to live there.
It was the third day there. So we got used to being cold. But it was hard to stop suddenly.
Sometimes a stuff there said " Slow down " loudly.
Even though it was a large ski resort, when it was crowded we often wanted to take some break. So we went to a restaurant in the ski resort and ate soft omlet that fresh cooked.
On the day we went out around at 1130 at night.
We tried to make frozen bubbles that I saw it on asamican-san's blog. So we brought bubble
from Japan.
At such a late night we blew bubbles in the front of the hotel. So many people saw us weird.
Grown up men blew bubbles as hard as they were able to in the cold air at night.
Is it weird? Hahaha.
Happy sky watch Friday