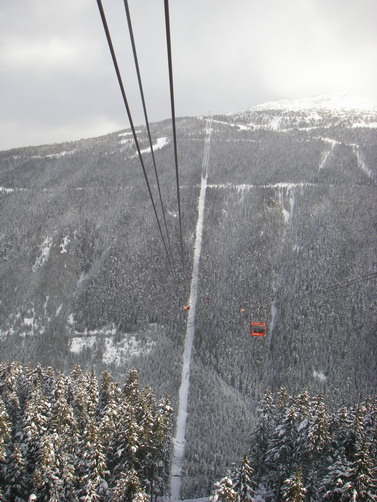 There is one of longest in the Whistler
It's called "PEAK 2 PEAK " and it runs from blackcom to Whistler mountain.
The gondola is built with only four towers. When you look down the scenery from the gondla,
you, you'd find out how you're on the high place more than you imagined.
There isn't any towers between blackcom and Whistler and it's connected by only ropes.
We used this gondola twice.
There are only two silver gondolas out of red gondolas.
You can see the scenery from the clear window of the bottom in the gondola.
There were many soft woods like needles
What if I would fall down there…..I thought of it, but the wonderful scenery made everybody
happy.
Speaking of this gondola, this gondola was built by an Austorian company.
Austrian friend called Maria whom I met on th blog told me it.
When I make a friend in some country, the countly turned the special country.
So I'm pleased when I learned the gondola was buit by Austrian.
Can you get it? Isn't this gondola amazing?