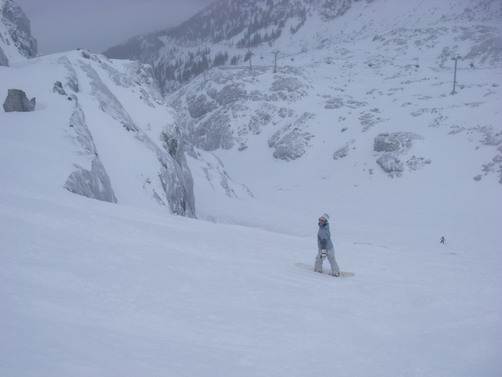 On the first day in whistler resort it was reallu cold even in the town.
So I wore even PJ and went to the slope.
It was still on the 26th of Dec. There were only few people and I realized it was week days
later. We didn't waited for the lift and we hardly saw people around the top of mountain.
I was a little bit scared because we didn't get used to snowboarding there.
But on the slope that was required T-bar advance we were able to use T-bar lift even though
we were beginners of T-bar lift. Of course we were taught how to use the lift
Around the top of mountain there were many rocks and even on the slope we found a lot
of rock. Then we found out why many people wore brain buckets.
The mercury had minus five degrees there.
Thew was a little bit sprinkling of snow but slope turned icy.
If I fell down on the icy slope and hit the rocks, I would die. I thought it like that and
I got scared. My feet got stiff and I got tired easily.
We ended up getting back to the hotel earlier than the finishing time of the lifts.
This picture is me around the top of the mountain.
Seeing the slope on the picture, it looks like much snow stacking up.
But it was icy slope. I almost sliped! It was really scarly.