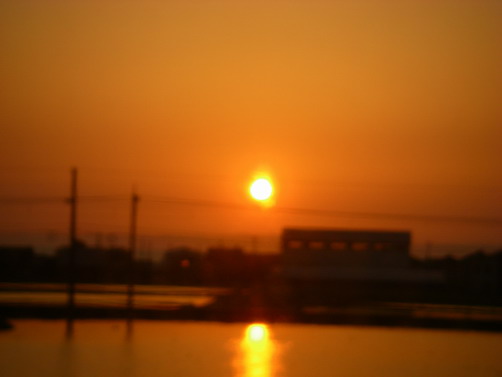 On the first day of holidays, last Saturday, my husband came home in the morning from work. So I stayed up late till 3 in the morning and it was already around noon when we waked up.
Well, it was nice out and let's roll!
We're doing what? We're going where?
The best way we go traveling on the day when we decide is trains.
So we couldn't choose the places where we have to take planes.
That's why we had to choose some places and then we decided to go to Hokuriku where is the middle in Japan.
You know what, Hokuriku is far way from Tokyo.
We took Shinkansen-train to Nigata where is the north in Japan first and changed trains there and took a express to Hokuriku.
Most scenery from trains was the rice field.
The rice field in spring looks like the lake.
I wasn't sure the rice field looked like that around in the beginning of May.
It took few hours from Niigata to Hokuriku.
I was reading a book. When I was sleepy,I nodded off. And then I waked up and read a book again. Finally I finished reading the book on the train.
We left home over at noon. The sky turned red bit by bit.
The sunset was beautiful and we saw it in the rice fields like the mirror.
We got to Kanazawa around at 7.
We ate a little bit expensive fried fish and Sashimi more than usual. And them we went to the hotel where we managed to make a reservation.
Most hotels were fully booked. That's why we couldn't help it use a single room.
We paid 7 thousands for it.
We hadn't decided where we went yet. We just went with the winds.
This picture is the rice fields in the sunset.