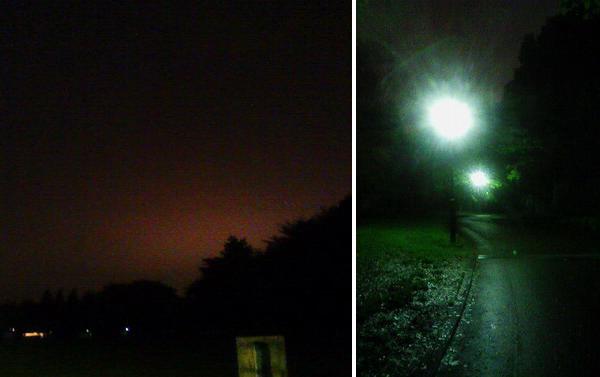 The day before last night I toasted two pieces of bread and I ate them with some butter after getting home from work.
There is a lot of bread that I like. But if I could only one kind of bread in life, I'd chose the toast.
After eating it I posted blog and something. Then I went jogging to the park near my house.
Always it's hard to jog for 10 minutes since I started.
I happened to see behind and the sky looked red.
Even though I don't live in a downtown, the sky looks red.
People say " Tokyo doesn't sleep. " and it's true.
Well, at first I jogged slowly in the park. And then I moved to the track on the ground.
I dedicated to jogging not to see the scenery.
It was bad out that's why I hardly saw other runners. So I was able to jog as I liked.
It means I jogged while listening to Che'nell's songs and singing the songs. In addition if I wanted to dance, I put my hands up.
I was almost out of breath when I ran while singing. But it was fun and got power to run.
That's why I was able to run fast.
When my engine got full power, 35 minutes past.
It felt soooo nice!
I ran faster than usual. So I sweated a lot. Then I ran fast for 30 minutes.
When I was satisfied, I went to the large public bath.
Bathes outside is very good. You can take a bath listening to the sounds of water running.
I was relaxed and left around 11 at night.
I walked home slowly on the wet silent residential street.
The air after raining is moist and comforting.
I took off a T-shirt because of sweating a lot and I was wearing only a training wear.
It was not cold also not hot and the comfortable air got inside them.
I ate a grapefruit after getting home and slept tight.
It was a really great night.
In Japan the rainy season is coming soon and I can enjoy running in the nice air at the park after raining.
The rainy season is one of fun season.
By the way this red sky was the sky from the park and it was dark inside the park.
Happy sky watch Friday