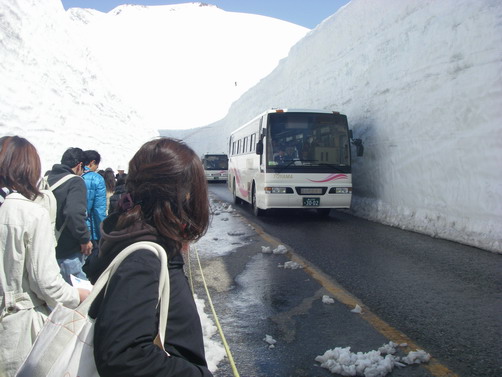 It was really crowded in Murodo.
There were way too many people under the mountain. Everybody went up.
No wonder there were many people in Murodo.
I saw many Chinese tourists.
Tour guides shouted.
" Can you guys hear my voice? Gather around! " like that.
Many people waited in line to get on the bus for a long time and people waited for it even
on the second floor.
We went out to see " Yuki no Otani " that means the high wall of the snow.
It was getting a little bit hot in the holidays. So we didn't wear much and the winds
was cold for us.
There were all snow there like ski resorts. Mountains looked like Alpine mountains
not Japanese familiar mountains and the rocks appeared among the snow.
Yeah, it's 2450 meters in height. No wonder the mountains there looked different.
This high wall is 15 meter at the most.
You can see the snow-point on the day of December also February on the wall.
We took a walk around there and waited in line on the second floor to get the bus.
We were able to get on the bus earlier than we imagined.
Available seats were only sub seats. Then more people got on the bus.
I saw two foreign tourists there.
I was hoping they sat next to me.