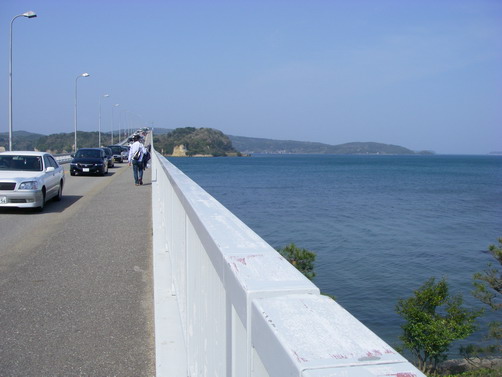 We left the fisherman's wharf in Himi-city quickly.
We didn't have time not to miss the train.
Then we took a train and talk about the next place where we were gonna go to.
We decided to go to a big bridge called Notojima-Ohashi.
This bridge is between the main island to Notojima-island in Nanao-sea.
It took 2 hours to the station near the bridge by the train.
We were dozing off for a while.
And then we got there but we had only an hour to be there and we had to take express
home. So we got a taxi to the bridge and it was a thousand-yen.
The bridge extends to the other side of the island. So you can go to the other island.
But of course we couldn't do it and walked to the middle of the bridge and got back.
I was thinking that we couldn't make it if we had walked to the station.
But my husband started to walk with GPS of iphone and he walked to the other way
taxi went through.
The navigation took us to the ditch not to the main road.
We jumped across the ditch carefully and walked across the farm road.
Then we made the train.
We went to eat Japanese fried pork called Tonkatsu that my husband recommended for the
last meal in the middle of Japan Hokuriku.
It was very good.
We got something for my family there and took express to get back home.
We couldn't reserve a seat but we were able to take a seat and we were relaxed with coffee
and read a book also dozed off.
We got home around 11:30 at night.
Sometimes you don't have enough time to stay somewhere because you have to catch trains.
But you can nod off also read books whenever you want to do it.
Going traveling with the trains is easy and nice.
So, where are we gonna go next time?