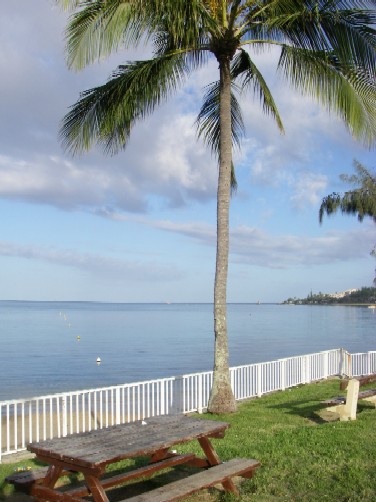 Last Friday night I had my hair cut at a salon. The last time I went there was 6 months ago.
When I saw my hair glowing, I thought it was not bad to grow my hair again.
So I wondered if I should have my hair cut.
I like seeing my hair on the floor after cutting.
I feel like having smaller head after cutting like sheep.
I'm glad to look good with earrings after cutting.
Speaking of which, I had a dread about riding a roller coaster on the day.
I lied on the ride and I fall in somewhere from my head like water sliders.
I was really scared.
I wanted to know what it means. So I stopped by a book shop called TUTAYA in Shibuya
on my way home from the hair salon.
It means I'm under the stress.
And does it mean should I jog more?
I'm going jogging to the park at night after getting home!
By the way this is a picture of New Caledonia.
The scenery seems to get rid of the atmosphere of rainy season and stress.