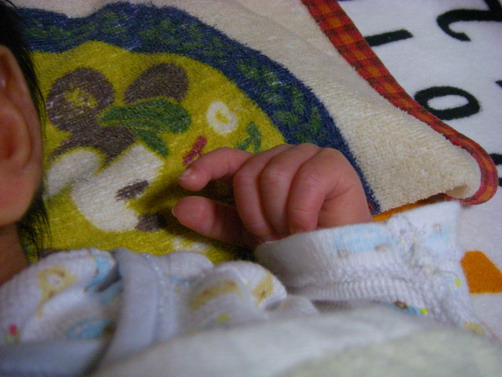 Last Friday I thought that it was finally Friday.
Last week I had been extremely busy with my job.
But I didn't feel that time fried.
I can't see my sister's baby on weekends. So I counted days till the weekend.
I can't remember when was the last time I felt that.
It's the same feeling as the feeling when I looked forward to seeing a man whom I had crush on. I love my nephew more than we imagined.
So my sister and her husband are more than willing.
Thanks to our baby to give us much happiness.
In the afternoon on Saturday I baked royal milktea-chiffon cake after cleaning my house.
I went to my parents' house with turned the cake up-side down in a doggie bag.
I got there around before 4. My mother went jogging to the side of river and my sister was nodding off.
Her baby slept well but my sister allowed me to wake him up. So I took up him in my arms right away.
I talked to him and said " I've been wanting to see you. " to him. Then my sister said" Talkative aunt got here!" to him.
When I held him, I didn't wanna got him back on the bed.
Probably he was thinking aya is annoying. When I held him strongly, he closed his eyes since he fell asleep or pretended to sleep.
We were sizzling beef and much vegetable on the cast-iron hot plate.
My mother served us. So we ate them one after another.
When we ate them, we glanced at the baby. He slept relaxed.
After dinner I took up him in my arms again. Then he looked around and sometimes gave something a look.
Babies can see something that grown up men can't see.
It's my grandfather who came to meet his grandchild from the heaven or fairy?!
After a while he was looking for his feed probably he got hungry.
He is about 2 weeks old. So he had grown up only for a week.
He hadn't grasped my clothes but he grasped it last week.
His face changed a lot and looked like he got used to be here much more and he enjoyed his life.
If I missed it, I couldn't see it when he's a baby. So I don't wanna miss it.
So everytime I couldn't seem to go home.
Last Saturday night it smelled like milk of the baby even when I got to the station.