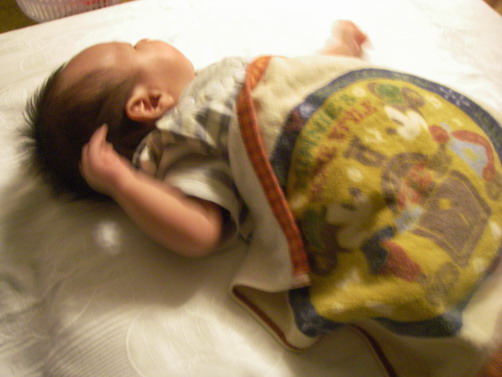 On the second day of three-day-holiday a summer festival was held near my parents' house.
Last year we had a ball. We hadn't imagined a person joined our family.
On the day my father-in-law sent us much vegetables, deepcooked fish or something,
and body soaps
I cooked various dishes sweating in the room not turning the air conditioning since in the
afternoon. I removed the strings of many common beans, boiled them and dressed them with
sesami. Then I made a cut in cucumbers and soaked them in the sauce.
In addition I made a cut in Nasu that is like egg plant, fried them and deepcooked them.
And I boiled a corn and my husband fried Chinese noodles with much vegetable.
It's fun to cook for my family in the afternoon during holidays.
And then I put them in the Japanese lacquer ware that my grandmother gave me
and wrapped a cloth.
We gathered at parents' house at 5 earlier than Japan.
My nephew called " U-chan " looked comfortable and smiled after taking a bath and pooping.
I shouldn't say it about my family but he looks very cute.
His face is very cute also he smells very gooood!
Everytime I see him, I sniff him putting my face on his body.
My sister said " You can sniff the smell only for a short time. So it would be valuable, right? "
Probably his smell will change after eating something.
On the day we ate and drunk from 5 to 9 at noon. It was a wonderful weekend and
spent fabulous time with my family.
Gathering at parents' house with family is the best time for me. I found out it again.
I can see my nephew on weekends but when I said good bye to him, I was gonna miss him.
On this weekday I'm working while looking forward to seeing him on the weekend.