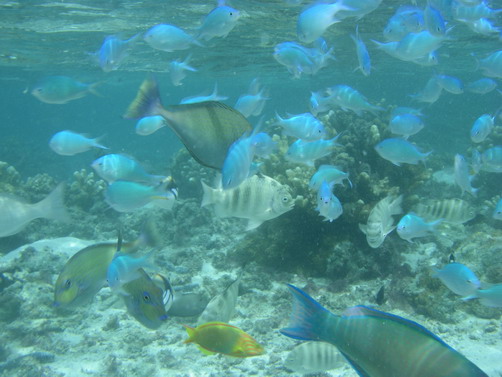 On our third day in Saipan it was nice out since in the morning.
We were able to go to Managaha island inexpensive since Sanji talked to me and told me
his company's tour.
We borrowed a beach matt and a cooler box and we had some canned beers, plastic bottled
Japanese teas, canned mango juices that Sanji gave us in the cooler box.
The inside of it was cold because of ice cubes.
We road the boat and a chubby man steered it to the island.
This chubby man looked like my husband's best friend. So I felt like being with this friend.
If I have a chance, I wanna enjoy talking with somebody in English.
So I enjoyed talking with the chubby man in English on the boat.
The chubby man asked me and said " Is this camera OK without a cover? " to me.
I said " It's a water resistance camera. So it's fine to use it without a cover." to him.
He said " No way! " to me.
It took only five minutes to the island.
There were a lot of people there and most of them were Asian people.
We saved the place under palm trees and went to snorkel right away.
In the afternoon it's on the ebb. But in the morning it isn't yet. So we were able to
enjoy snorkeling.
We had plans to take part in snorkeling offshore.
There were much more fish than around the island and there was other fish also big fish.
We wanted to snorkeling there much more. But it was too bad to have to finish it only
after 20 minutes.
But you can snorkel around the island.
I recommend you the beach where life savers aren't on not the beach where there are life savers
on. We had some bread to feed fish. So we grabbed them and gave a piece of bread to fish.
Fish gathered around us and we enjoyed feeding it but fish wanted to eat much more bread.
So they try to bite the bread in our hand. It hurt and we said " Gah!! " since we were surprised.
An hour flied when we snorkeled.
I often checked the watch and took some break once an hour and put sunscreen on the legs
and the face. We did it over and over.