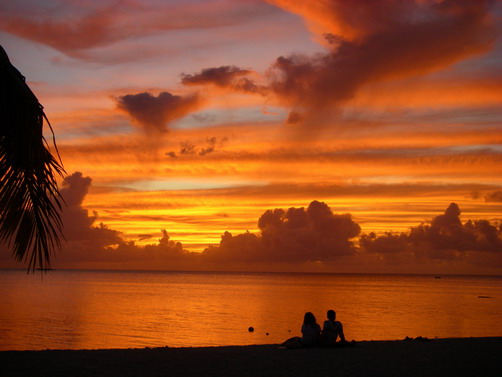 Saipan is a country where is near Japan but I got to the hotel in Saipan around at 3 in the afternoon even thought I left home at 6 in the morning.
It's near Japan but the first day of it was over before we hadn't done special things.
After being relaxed at the lobby while drinking coffee I called my mother by my husband's cell phone.
My sister picked up the phone. So I said " I left my passport at home. So I'm still in Narita."
to her. She thought about it for a moment and said " You lied! "
You might not believe so, I had did it a couple years ago.
About 5 years ago I brought my old passport to the airport and I couldn't get on the plane when I went to Canada to study English for a short time.
It's funny now but on the day I got disappointed very much.
Going back to the saipan story, my husband took some break at the room and I went to the beach to take a picture.
When I took a walk on the beach, a local man talked to me.
He said " Hello! When did you come to Saipan? What are you doing tomorrow? Why don't you go to Managaha island?"
I thought I hadn't believed him at first.
His name is Sangi and he works at a tour company in Saipan called sea horse.
He told me he took me to Managaha island for 15 dollars.
In addition he served some drink and let me borrow the beach mat also the cooler box.
He told me I could pay for it the day after tomorrow. So I decided to go there.
I got back to the room once and I waked my husband up and went to the beach again.
The sky turned red bit by bit. We were there for 15 minutes and left there and went shopping. when we turned around after few minutes, the sky perfectly red.
We didn't see it coming and ran to the beach again.
I've never seen such a fabulous sunset! It was unbelievably beautiful. So I couldn't say only " unbelievable! ".
We stayed there for four nights but we couldn't see such a beautiful sunset after the day.
We were gonna eat out but we didn't have enough sleep.
So we wanted to sleep more than eating out. So we ate instant noodle at the room and went to bed earlier than usual.
Our first day in Saipan was over.