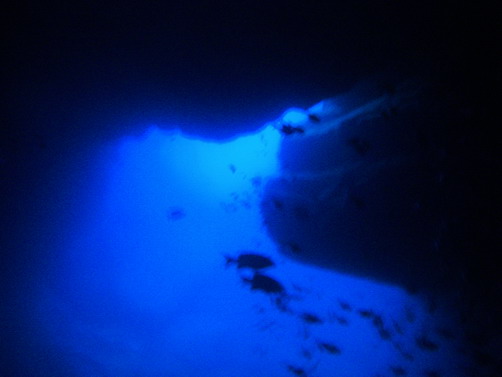 You can see the blue water in the Grotto after getting down the steep stairs.
You have to jump from the rock to get into the blue water.
You have to keep being in the middle of the Grotto since the current is strong.
Sometimes people hurt or lose their lives when they crush to the rocks.
When you stand on the rock, the guide count to three.
You have to jump into the water when the guide says " three "
You sink once. Then you float right away because you wear a life jacket.
Water came into my nostrils and I was coughing a little bit.
I thought I sank deeply but I hardly sank. I found out it and I watched that I was scared to jump when I watched the video.
Only for 40 minutes we were able to swim there.
I felt like floating in the Grotta Azzurra in Italy.
It's so beautiful!
Divers were swimming under us.
We looked at a plenty of bigger fish that I usually see when I snorkel.
Sometimes turtles come there.
Sometimes big waves came into the grotto and I was scared to crush to the ceiling of rocks.
Time fried really quickly.
When you get up on the rocks, the local guide pick you up when the wave comes into the grotto.
He speaks 5 languages.
The job of the tour guide is the job that you can see many people in the various countries and it's much more fun than my job.
" I'm jealous of the tour guides" is one of my thinking when I go traveling somewhere.